Lucas Oil ASCS Gearing Up For Randolph County Raceway Debut
TULSA, OK - Looking to get back to action this coming weekend, the Lucas Oil American Sprint Car Series presented by MAVTV American Real will make their first visit to the high-banked Randolph County Raceway in Moberly, Mo. on Saturday, April 18. Situated just five miles east of the town of Moberly, Mo. the former asphalt oval opened in 1989. Eventually converted to dirt, the asphalt remained in place beneath the clay until the track was purchased by David and Janelle Claypoole in 2012. Leading the charge into the Missouri oval,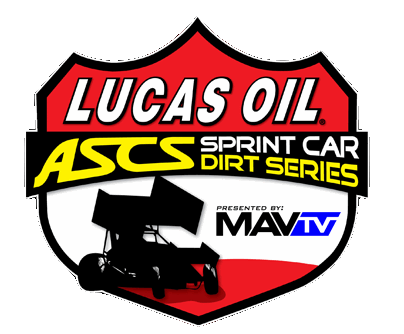 Arron Reutzel has already earned six victories in 2015. Racing a combination of events, two of Retuzel's six wins came in the season's opening trip to Florida at East Bay Raceway and Bubba Raceway Park. Aaron's most recent ASCS triumph came in regional competition at the Red River Speedway in Wichita Falls, Texas on April 3. Of the National Tour drivers, Johnny Herrera sits closest to Reutzel in fourth. Taking in regional action this past weekend, Herrera added his first win of 2015 at the Creek County Speedway on Friday night. Jeff Swindell currently holds fifth in driver standings with Tony Bruce, Jr. sixth. Putting his No 23 in Victory Lane for the second time in 2015 this past Saturday night at the Super Bowl Speedway with the ASCS Red River Region, Seth Bergman currently holds seventh in National Tour standings. Looking to even things out with the series back in the Mid-West, Sam Hafertepe, Jr. who sits 11th looks to charge into the top-ten along with Matt Covington who currently rides 16th. Blake Hahn 18th has had success in the National Tour's down time with a pair of wins coming with the ASCS Gulf South Region. Missouri native Kyle Bellm is currently 23rd and leads the way for the 2015 Brodix Rookie of the Year. Derek Hagar trails in that statistic at 26th, followed by Josh Baughman (27th), Parker Price-Miller (28th), Kris Miller (38th), and Jordan Weaver (42nd). Joined by the Speedway Motors ASCS Warrior Region, the Missouri based series will kick off their 2015 title hunt. Jonathan Cornell is the defending champion of the ASCS Warriors and since 2013 has picked up a trio of victories at the ultra-fast half/mile. Brian Brown with a pair of wins and Danny Lasoski completes the list of ASCS winners at the Randolph County Raceway since 2013. Tickets for the Saturday, April 18 event are on sale at www.ascsracing.com/shopping and can also be purchased at the track the day of the race. Front gates are scheduled to open at 5:00 P.M. with racing getting underway at 7:00 P.M. (CT). The evening will also include USRA Modifieds. For continued updates on the American Sprint Car Series, log onto www.ascsracing.com.